Agoraphobia Symptoms – Agoraphobia Causes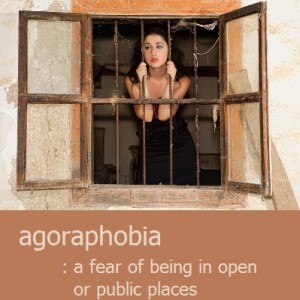 Agoraphobia symptoms usually manifest when chronic panic attacks have taken over a person's thought process. Basically you have a fear of going anywhere outside of your comfort zone. Here are some examples:
It's a beautiful day and you would love to spend some time out in the sun. What stops you is the absolute sense of panic and you cannot even walk out the front door.
Perhaps your friends have come by to take you shopping but you can't go because you think a panic attack may result if you are in an enclosed place.
Going to a park to see a concert, where there are a lot of people, may trigger a panic attack.
Avoid using certain modes of transportation because a panic attack may be the result.
These are just some examples of a person's real fears and thoughts that can trigger agoraphobia. To the average person, it may be difficult to understand the logic behind all of this but, to that person suffering from agoraphobia the situation is very real and could be life threatening. Along with panic attacks, some other agoraphobia causes may be from a chemical imbalance, genetic factors and PTSD.
A person that suffers from agoraphobia has reached the point of avoiding any situation that may lead to panic.  With the advance of technology, agoraphobics can manage a little easier. They can shop online, keep in touch with friends and family through social networks and, make a living on the internet. Despite these advances, the life of an agoraphobic is still very restricted. Agoraphobics truly believe that having a panic attack in a public place could lead to an embarrassing situation where getting help or finding an escape is impossible.
How common is Agoraphobia? In the U.S., there are about 3 million people that suffer from agoraphobia. This is not a definite amount since there are many agoraphobics that never seek help from a physician. In addition, It is also a well known fact that anxiety disorders, including agoraphobia, affect women more than men.
If you know anyone that you believe may be suffering from agoraphobia and has not been diagnosed, there are still doctors around that will make house calls. Agoraphobia causes people to become hermits and if you can help someone to get treatment you will be doing your friend or family member a great justice.
Want to get a Free audio to end anxiety and panic attacks fast?!