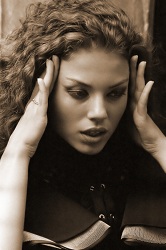 Doctors believe anxiety is a problem of chemical imbalance prescribing medication that basically buffers the feeling of anxiety. This is very similar to pain medication.  I am in chronic pain everyday and pain medication never fully gets rid of the pain.  In my opinion pain medication makes me feel woozy and dulls the pain.  Now when I feel woozy, I feel like I'm not in control of my senses and that makes me feel anxious. If you had a choice to treat the cause or treat the symptom which would you choose?  I have done as much as I can for my pain by having neck surgery.  Yes, the pain is not as severe but nerve damage has kept me in chronic pain.
My point is that I did treat the cause and while my pain has not disappeared, I know in the deepest recess of my mind that I have done everything I can physically do for my pain.  I am a very strong willed person as I believe most anxiety sufferers are and Panic Away has taught me to redefine the word control.  Now I am not saying that medications cannot help with your feelings of anxiety, I just don't want you to have to rely on them for the rest of your life.   Anxiety and pain can walk hand and hand. Constantly fighting pain, creates muscle tension in my body and what does anxiety cause? You got it, muscle tension in the body. Well, what do we have her?   A double whammy!


style="display:block"
data-ad-client="ca-pub-9149575920516051″
data-ad-slot="2292114377″
data-ad-format="auto">

I have learned to know myself and to recognize the early signs that my anxiety level is going up. The other day, as I was writing one of my articles, my husband walked up behind me.  When he touched my shoulder I nearly hit the ceiling. Now I know this can happen to anyone but think about it, there are only two of us in the house with three large rottweilers, so I know that no one is going to enter my house without my knowledge.  Do I always jump like that?  No! So when I am reacting strongly, by touch, loud noises, or unruly rottweiler children, I know my anxiety level is rising. What do I do with that information?   I do one of the Panic Away techniques.
I thought that things were bad enough when, upon wakening, I knew that a new day of anxiety battling has begun. But now my battle includes fighting pain. Don't feel sorry for me because there are people in worse condition and I remind myself of that every day. That reminder gives me the reason to fight.