Anxiety Disorders In Children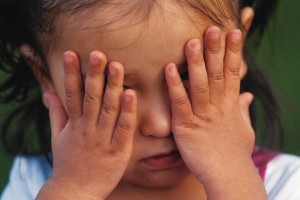 I need to address something that is very important to me….anxiety disorders in children.
Why is this so important?  Because it is up to us, the parents, to make sure that our children understand how to deal with anxiety. As I look back on my life, I realized that I had anxiety problems going back to my childhood.  If you have read my post, Panic Attacks Where It All Started, the first line of that post is very significant.
"I thought my first panic attack was in 1985."
Well, I was wrong.  My first panic attack was in 1962 when I was twelve.  Yes, I said twelve.  So, I want all of you parents out there to listen up.
There is no age restrictions for anxiety and at some point in our lives we all experience anxiety.  It's very normal for children to be anxious in certain situations.  But, if anxiety is affecting your child to the point where he/she has problems performing every day tasks, this might just be a sign that your child needs help.
Here are some common anxiety disorders in children:
Generalized Anxiety Disorder (better known as GAD)
Children with GAD cannot control their thoughts.  I know that children often do things without thinking.  That's not what I am talking about.  These children are always worrying about or dread something.  Projects take forever to complete because they are never fully satisfied with the result.  They may also:
Feel tired all the time
Have trouble sitting still
Feel stressed without reason
Have difficulty focusing
Feel agitated
Have trouble falling or staying asleep.
Separation Anxiety Disorder
Children with separation anxiety disorder feel so anxious about being away from home to the point that affects daily life. These children have an uncontrollable desire to stay at home, their comfort zone. They may also have headaches and/or stomach aches on a regular basis, as well as, dreams that separate them from their parents or comfort zone.
Social Phobia
Social phobia usually appears in the adolescent stage. Teens with social phobias often have problems in social situation and/or when they have to perform in front of a group. This happens because they do not take criticism very well and, are not self confident. These teens often fear these situations to the point that they start having panic attacks.
Obsessive-Compulsive Disorder (better known as OCD)
Known as obsessions, children with OCD are constantly thinking and do not have control of their thoughts. Children try to calm these thoughts by introducing inane repetitions in the tasks they are perfoming. These repetitions are called compulsions. In the case of OCD, these obsessions and compulsions take up so much time that they interfere with daily living and cause a child a great deal of anxiety.
Post-Traumatic Stress Disorder (better known as PTSD)
Children who experience a physical or emotional harm may develop PTSD. An event that may not be harmful to an adult, might be harmful to a child. A child may relive the situation in their dreams, have constant thoughts about what happened, or even perform a reenactment during their play time. A child with PTSD will also experience symptoms of general anxiety.
What Can Parents Do?
Parents, you can help by identifying the symptoms, getting a diagnosis from a mental health professional (who specializes in children) and obtaining a treatment plan because, anxiety disorders in children are treatable. Treatment may include some form of psychotherapy, behavioral therapy, or medications. The mental health professional will develop a comprehensive treatment plan with you, the parents. Treating anxiety disorders in children early helps children to reach their full potential.