How To Help Someone With Anxiety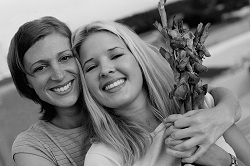 The question is, does your loved one want your help? Some people prefer to deal with GAD and/or PD by themselves and others welcome any help they can get. One of my psychiatrists told me some interesting facts. Women with anxiety tend to seek help, and men with anxiety tend to self medicate, usually with alcohol.
Learning how to overcome anxiety is definitely attainable. As with any difficult task you come across, set a goal and work hard to attain that goal. Living with someone who suffers from anxiety is another story. Depending on the different types of personalities, you may or may not notice a difference in behavior. Anxiety is a problem from within and some of us are strong enough to keep it that way. What I am trying to say is that people that suffer from anxiety don't necessarily walk around with a big red flag or balloon advertising their plight. Anxiety is about lack of control hence if I am feeling very anxious, I am trying very hard not to let the cat out of the bag. Once someone else has noticed that I am anxious I feel like I have lost even more control and that is a sign of weakness. At one point I had to tell my boss about my panic attacks. Why? Because I had a panic attack on the way to work and I was in a daze by the time I reached the office. I knew I couldn't fake my way through the day because my anxiety level was still off the charts. My boss was totally surprised by my confession. She told me that I always seemed so calm and under control. Boy did I have her fooled!


style="display:block"
data-ad-client="ca-pub-9149575920516051″
data-ad-slot="2292114377″
data-ad-format="auto">

Acceptance is a very important key to exposing your anxiety. I always had the ability to tell others that I felt anxious. I just thought that revealing my anxiety problems would leave me exposed like an open book for everyone to leer at and use me as the topic of conversation at the water cooler. Learning how to share my feelings of anxiety with others was my first big step. Once I told the first person, I realized that I wasn't thought of any differently. I always had a vision in my head that I would be the product of Darwin's theory survival of the fittest. Someone was going to stamp my fore head with the words "weakest link" and I would then be removed from society. I can assure you that after 25 years of GAD and PD, I'm still here, free to roam the planet. The doors that prevent me from moving on are the ones that I, myself, have created.
Understanding GAD and PD is your first step in learning how to help someone with anxiety. Hopefully I have given you some good insight. In the next installment I will talk about ways to overcome anxiety with Panic Away.