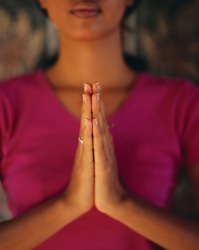 If you have tried passive meditation and find yourself wondering off, let me suggest active meditation. I practice passive meditation every day. Sometimes I cannot even get my mind to focus on anything but the endless thoughts swirling around in my head. Active meditation is awesome. It may seem very strange to think that you can meditate while standing, dancing, or spinning around in circles. Believe me, I have tried just about every type of meditation available and, this really works.
I will do whatever it takes to keep my anxiety level to a minimum. If we truly want to get rid of our anxious feelings, we have to work at it. After trying a couple of the Osho Meditations
, I was astounded at how good I felt. You will need to dedicate an hour of your time but it will be a very beneficial hour. I try to practice one of the Osho Meditations
at least three times a week. If I had time I would do it every day. It's worth the time for me if I am able to concentrate the rest of the day, without any problem. So much time is spent fighting all those anxious feelings. Wouldn't it be better to take some time for yourself so that you can be fully functional? I know it's hard to break the cycle but only you can take the first step. Get rid of some of that excess energy and calm yourself!
Try it out and let me know if you feel and good as I do!