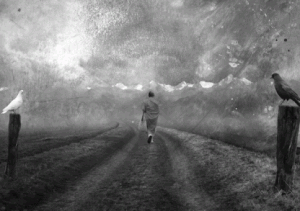 Before I start going into detail about how to overcome anxiety, I would like to share my story.  This way you will understand where I am coming from.I thought my first panic attack was in 1985. 
As anyone living in NYC knows, scrambling for a seat on a subway car is a daily competition.  Sometimes the scramble is ineffective however, today I was lucky, I got a seat!   As I sat down I breathed a sigh of relief, knowing that I would not have to stand, with my high heels on, for the 45 minute ride. That relief would be short lived. Suddenly, a wave came over me. This wave reminded me of an amusement park ride, you know that feeling you get when the ride dips and your stomach feels like it's doing a double flip. Next thing I know I am breaking out into a sweat. My hands are shaking and my heart starts pounding.   What the heck is going on?  I'm only 25 and too young to have a heart attack.  My natural reaction was to get up and run, but there was no place to go, after all I was in a moving subway car.  Consumed by this unknown feeling, I am now in shear panic mode. My heartbeat is so loud, surely someone else can hear it. The only other thing I can hear is a moaning sound.   Where is that coming from?  I look around and everyone on the subway car is either reading or sleeping.  Only then did I realize the moaning was coming from my own mouth! Am I losing my mind? I felt disconnected from reality, like I was imprisoned in a chamber with no way out.   I couldn't believe it, not one person on that subway car asked me if I was okay.  I was probably viewed as just another person on drugs having a bad trip.  I revert back to my childhood, are we there yet? Finally, my stop, I raced out of the subway car, then the station, took a deep breath, I'm free!
Little did I know that from that moment on, my life had changed.  My fear of this happening again overwhelmed my senses.   Days went by, I couldn't shake the feeling of dread. Then panic hit me again.  I had just stepped off the bus, and was frozen at the top of the steps heading down into the subway station.  I couldn't go down there. Bad things happen down there. The panic took over me and I had no choice but to catch a bus back home.  I couldn't wait to get back home, home was safe.  As time passed I could no longer reach the bus stop that was only one block from my house. Now I was stuck. How was I supposed to get to work?   It was time to see my family doctor.


style="display:block"
data-ad-client="ca-pub-9149575920516051″
data-ad-slot="2292114377″
data-ad-format="auto">

My doctor told me that I have an anxiety disorder and that is why I am having panic attacks.   As he handed me a prescription for medication, that would help me calm down, he told me: "You need to find a nice young man to marry and then all of your problems will go away". Are you kidding me, is this all you got? No explanation as to the causes or how to stop my panic attacks. Now I must remind you that the year is 1985, there is no internet, and very little information available regarding panic and anxiety disorders.  So, I found another doctor, one who was more responsive to my needs. My journey was only beginning.
Over the next 25 years, since my first panic/anxiety attack, I have been through several family doctors, psychiatrists and, a few bouts with a therapist.  My feelings of anxiety and panic were never truly gone, only masked by medication.  As I turned 50 and did the usual survey of my life, I realized that anxiety still ruled.  Saddened by this, I vowed to find a way to kick the anxiety out of my life.  After much research to find natural cures for anxiety, on the internet, I decided to try Panic Away.  The price was less then an hour of therapy so I figured what do I have to lose. Now I have the right tools and know when I need to use them. So, join me on my journey and learn How To Overcome Anxiety Today!